This is my first year, attending Microsoft Ignite – what an event. The sheer size of the venue and scale of sessions available to various events happening throughout the day – mind blowing!
I've blogged a roundup of sessions I attended today, including links and updates from various Azure Resources that I will find useful.
The Keynote
The day started with the Ignite Keynote by Satya Nadella, I was luck to view this live in person due to only 3,000 available tickets for this – been up from 5.30am!
Satya Nadella opened with the below reference to Tech Intensity and how Microsoft's mission is powering you to achieve the below formula.
Referencing that 50billion devices connected by 2030 & 175ZB total amount of data by 2025, motivating Azure to be the "Worlds Computer".
Azure ARC announced, which offers Azure services and management to customers on other clouds or infrastructure, including those offered by Amazon and Google.
"For customers who want to simplify complex and distributed environments across on-premises, edge and multicloud, Azure Arc enables deployment of Azure services anywhere and extends Azure management to any infrastructure."
For further info on Azure ARC
Next announcement:- Azure Synapse, combining data analytics & big data warehousing even further – taking it to the next level.
" Today, we are announcing Azure Synapse Analytics, a limitless analytics service, that brings together enterprise data warehousing and Big Data analytics. It gives you the freedom to query data on your terms, using either serverless on-demand or provisioned resources, at scale. Azure Synapse brings these two worlds together with a unified experience to ingest, prepare, manage, and serve data for immediate business intelligence and machine learning needs. "
Synapse Analytics consists of:-
Limitless scale
Powerful insights
Unified experience
Unmatched security
Running 10,000 queries using Azure Synapse compared to similar in AWS & GCP.. wow!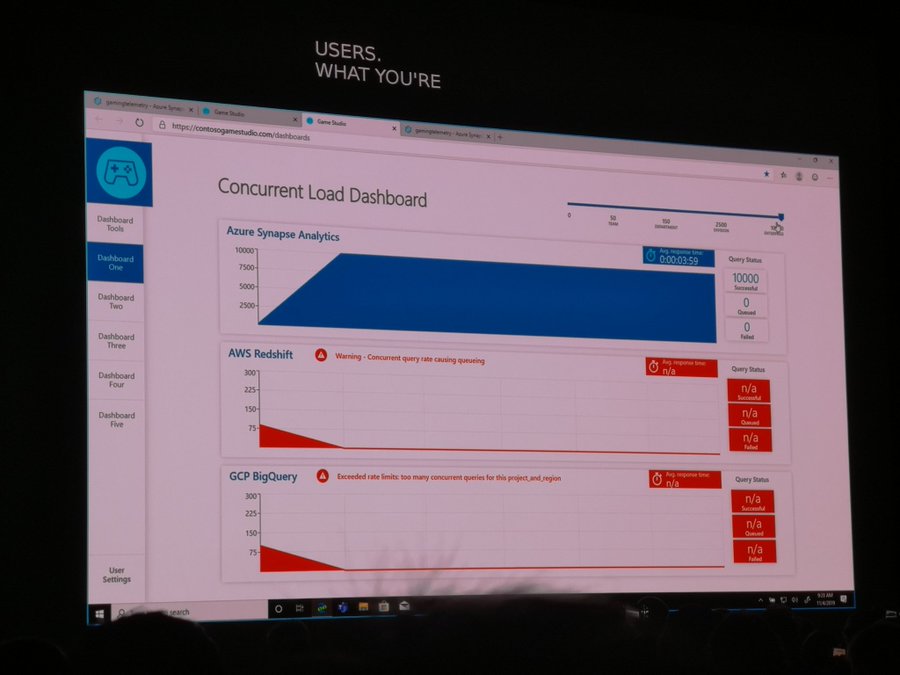 More info on Azure Synapse Analytics
Project Silica
Ability to store data on glass? You're kidding? No! Microsoft are developing this technology, haven't heard about this at Microsoft Future Decoded – it was great to here the current advancements of this.
Demo'd that Superman the movie from the original has been scraped into the glass – pretty cool!
Session: Invent with purpose on Azure
Speakers: Julia White & Jason Zander
Microsoft Azure gives you the freedom to build, manage and deploy cloud native and hybrid applications on a massive, global cloud using your famous tools and framework. This session demonstrated the latest advancements in Azure.
Ultra Disk Storage
Highest Performance disks in the cloud
Supports up to 160,000 IOPs + 2 GB/sec per disk
4GB to 64TB in size
<1ms read/write latency
Azure Hybrid overview the stack demo was pretty cool! Dropping the rugged stack device with no issue to the end software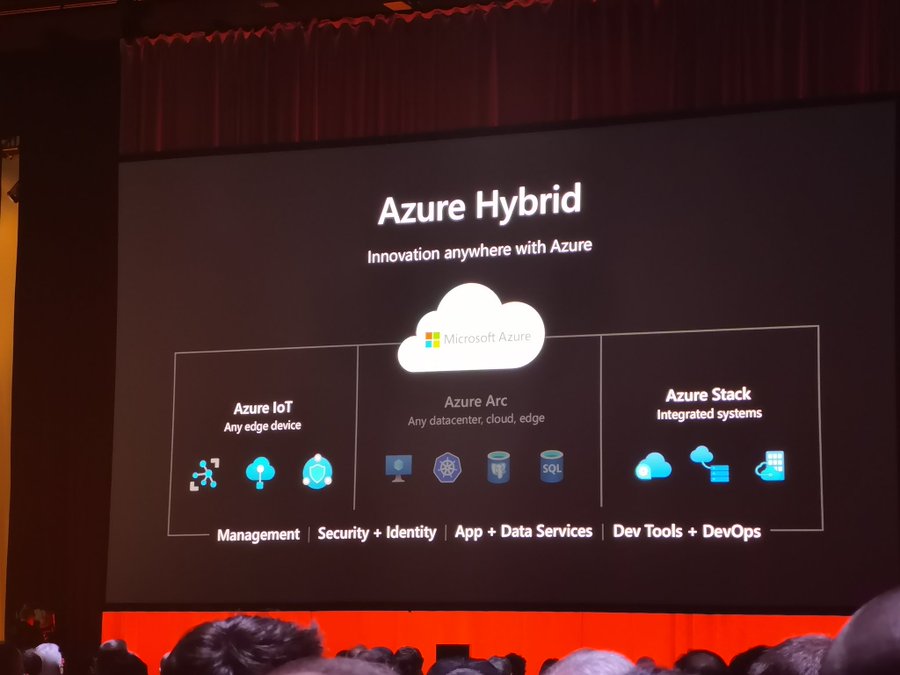 Visual Studio Online Announced
On-demand development environments in the cloud
Use Visual Studio Code or a browser-based editor
Full extension marketplace, with Intellicode and Live Share built-in
Azure Kubernetes Service
Azure Farmbeats – Democratizing AI for farmers around the world
SQL Server 2019 Generally Available!
Azure SQL costing between Azure and AWS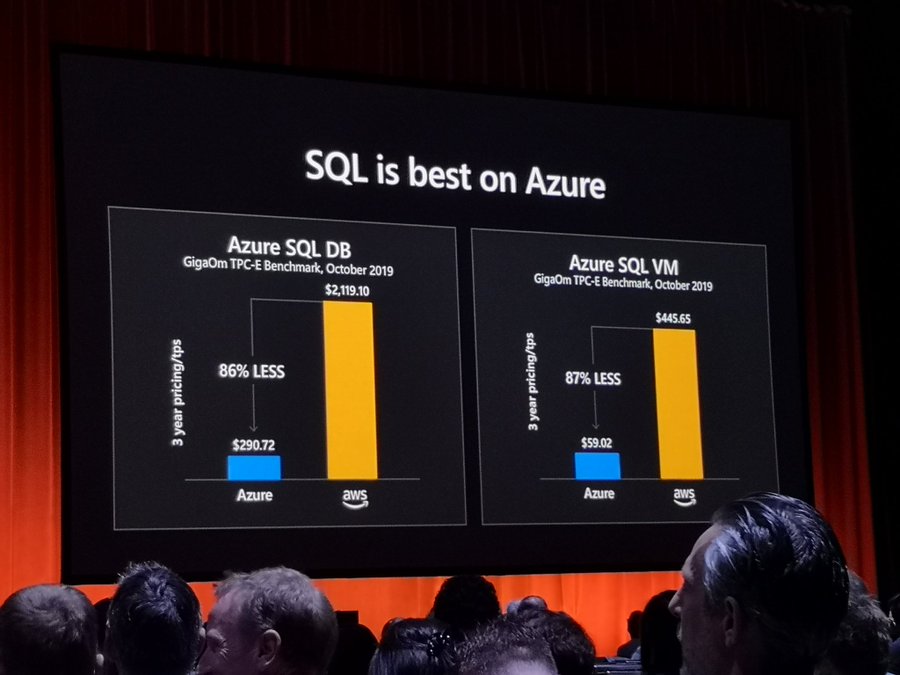 Azure analytics is 14x faster & costs 94% less than other cloud providers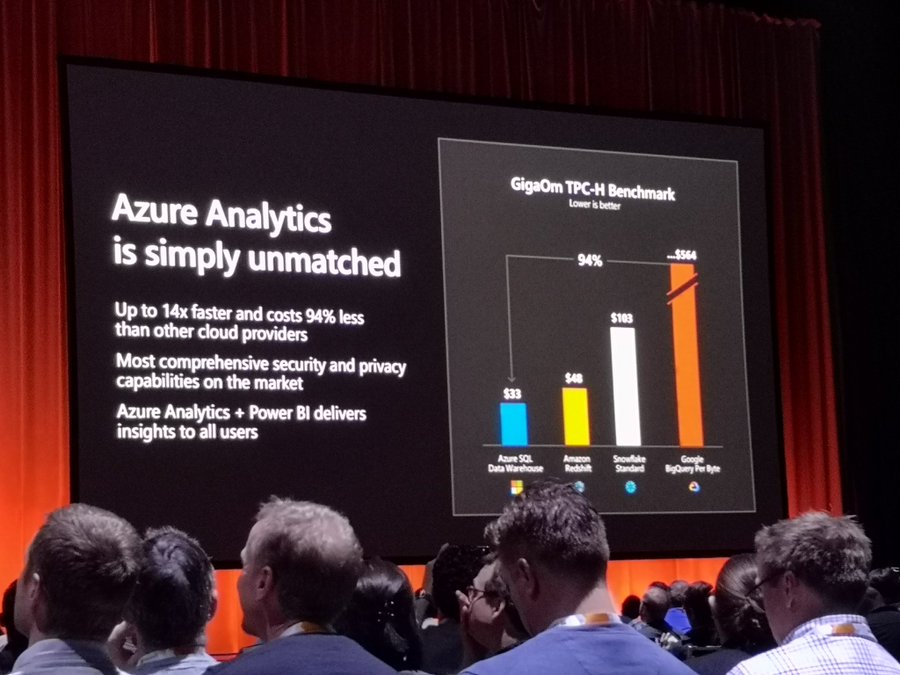 Meeting Jeffrey Snover & Jason Helmick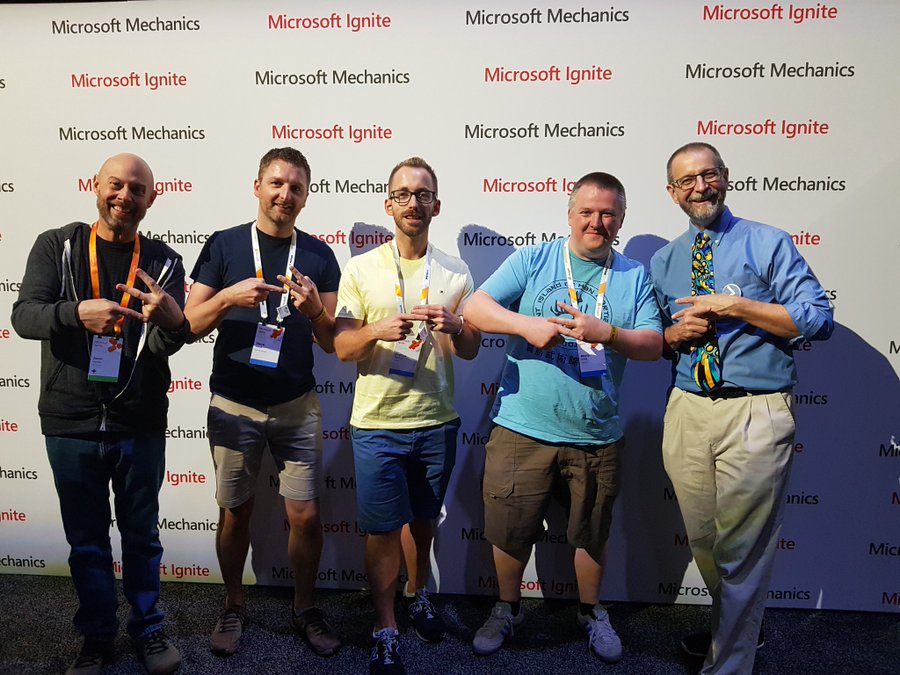 Session: Azure Governance and Management
Speaker:- Orin Thomas
Discussing Governance and Management Tools within Azure, including Azure Policies and Role-based Access Control (RBAC)
Azure Resource Graph – Get visibility into your resources from effective inventory management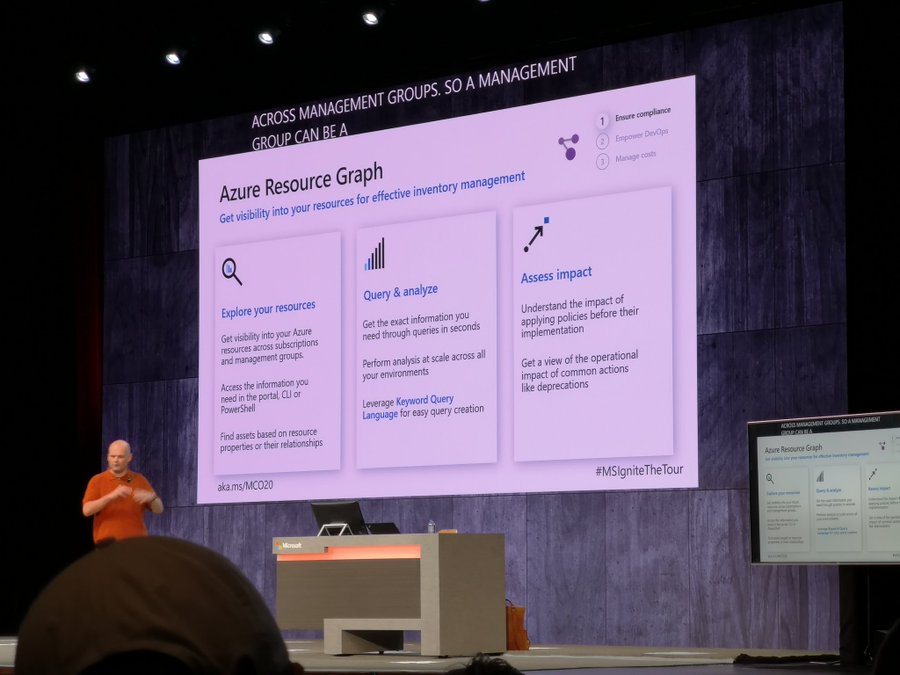 Querying using Azure Graph resource within Azure Portal, build queries and essential graphs from there
All resources within that scope inherit from the same Lock
2 available lock settings:-

CanNotDelete means authorised users can still read and modify the resource but can't delete the resource
ReadOnly means authorised users can view a resource, but they can't delete or update the resource
Azure Policies – create and configure your own policies for various compliance's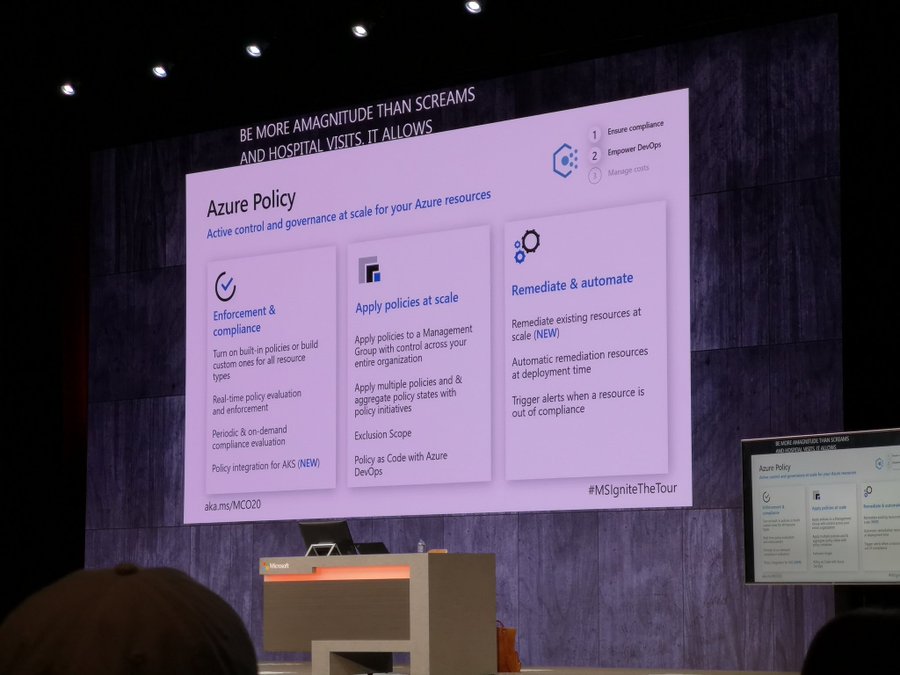 Numerous Policy Samples from Microsoft
Azure Policies Remediation Tasks
Azure Resouce Tagging, have a look at my blog for some further info:- https://tamops.wordpress.com/2019/02/04/azure-resource-tags/
Azure Blueprints:- Enabling quick, repeatable creation of fully governed environments
Azure Blueprints for PCI standards
Wow – the end of a completely thrilling and exciting day! Between sessions I was floating between various Microsoft areas along with the vendor floor – some cool swag to be had.
Thanks for reading, roll on day 2!